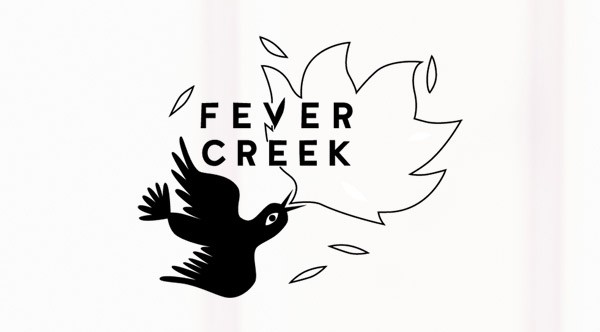 Da ist er wieder, der Feuervogel. Dieses mal in neuem Federgewand. Die Illustratorin Anne Baier alias Bye Bye Sea erschuf das Motiv für das aller erste Fever Creek Festival im Sommer 2013. Es zierte Flyer, Merchandise und vieles mehr. Zwei Jahre später setzte sie erneut den Bleistift für uns an, mit zweifach schönem Ausgang:
Erstens: Wir haben ein Logo! Und dafür flog der Feuervogel in unseren Kreis zurück, etwas entschlankt, aber genauso liebenswürdig wie sein Vorbild. Zweitens: Das Design für die Veranstaltung Ende August übernahm Bye Bye Sea gleich mit. Beides sind Bleistiftzeichnungen, inspiriert von der Natur und digital weiterverarbeitet.
Was bei Anne Baier seit der ersten Zusammenarbeit noch alles passierte? Die Freelancerin aus Potsdam ist kreativ vielbeschäftigt. In den vergangenen zwei Jahren nahm sie vor allem Aufträge aus dem Editorial-Bereich an. Ihre Zeichnungen erschienen beispielsweise in den Magazinen Handelsblatt, Eltern, NZZ, Anorak sowie jetzt.de. Designagenturen wie Hatch Berlin oder Kircher Burkhardt buchten sie ebenfalls. Kein Wunder bei ihrem Talent! Davon könnt Ihr euch auf bybebyesea.com selbst überzeugen.
There it is again, the Firebird. This time with new feathers. The illustrator Anne Baier alias Bye Bye Sea created the motive for the first Fever Creek Festival in the summer of 2015. It embellished flyer, merchandise and more. Two years later she again took a pencil in her hand for us with two lovely results:
First of all: We have a logo! For this, the Firebird came back to us, a little bit skinnier, but equally amiable like his archetype. Secondly: The design for our happening in end August was also done by Bye Bye Sea. Both drawings were done only with a pencil, inspired by the nature and digitally finalised.
What happened to Anne Baier since our first cooperation? The freelancer from Potsdam is creatively quite busy. In the past two years she did quite a lot of editorial work. Her drawings were published for example in the magazines Handelsblatt, Eltern, NZZ, Anorak as well as jetzt.de. Design agencies like Hatch Berlin or Kircher Burkhardt booked her as well. No wonder, considering her talent! You can get a glimpse of it on bybebyesea.com