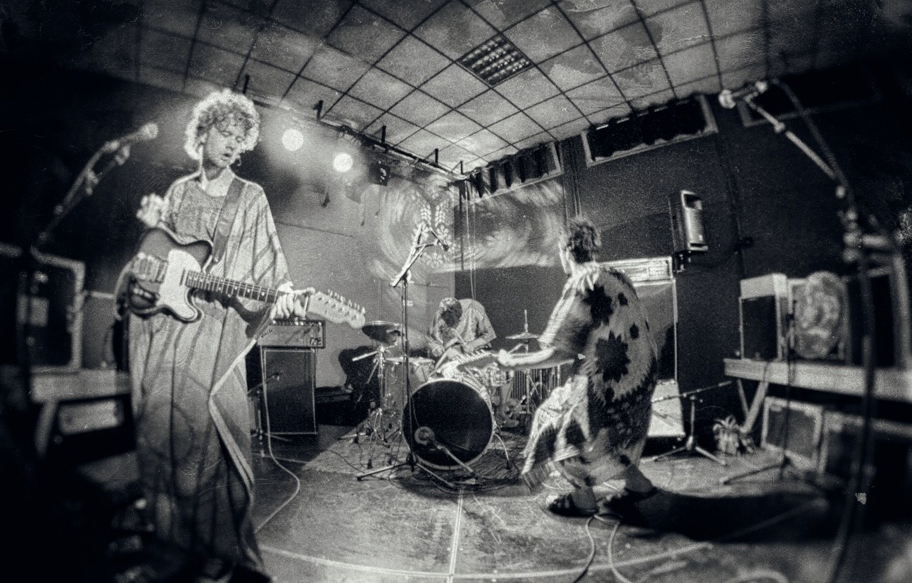 Bar und Bühne – das sind die Lieblingsorte der Hamburger Jungs Thore, Velvet und Eddie alias Sick Hyenas. Ihrer Musik ist das anzuhören. Sie erinnert an durchzechte Nächte, an deren Ende alles möglich ist: Sex, Drugs, Absturz.
"Radar Eyes" strotzt vor Energie, in "Le Sac" kreischt die Gitarre, "Oh Mother" klingt nach einem Spaghetti Western aus der Feder von Quentin Tarantino. Die Lieder auf dem ersten Album "Sick Hyenas" (2014) spiegeln aufs Beste den Live-Spirit der Drei wieder: treibender Garage Rock zwischen Surf, Psych und Punk-Attitüde. Mittendrin rezitieren die Schriftsteller Charles Bukowski und Allen Ginsberg anzügliche Gedichte.
Auf eine explosive Mischung zielt auch der Bandname ab: "Hyänen sind für uns die absoluten Freaks in der Tierwelt. Sehr mystisch, gefährlich und verrückt", erklärt Gitarrist und Sänger Velvet. Seit 2011 spielen er, sein Cousin Thore an der Gitarre und Schulfreund Eddie am Schlagzeug als Sick Hyenas wie verrückt auf den Bühnen St. Paulis und zunehmend der Welt. Nach der Albumveröffentlichung auf Kassette und Vinyl folgte 2014 eine zweiwöchige Tour durch Frankreich, Deutschland und die Schweiz. Das alles schaffen die Musiker ohne großes Label im Rücken. Facebook, Soundcloud, Instagram und Co. helfen dabei, so gerne sie auch darauf verzichten würden. Solche Plattformen sind jedoch "die beste und einfachste Möglichkeit, sich im Netz zu präsentieren und entdeckt zu werden. Zudem können wir verfolgen, wo auf der Welt unsere Musik gehört wird", freut sich Thore. Mittlerweile haben sie Fans in Australien, Brasilien, Frankreich und den USA. Das treibt an, weiter zu spielen – und macht die Lieblingsorte Bar und Bühne noch aufregender.
Auf dem Fever Creek Intermezzo 2015 präsentieren sie neben ihrem Album auch neue Songs. Darunter die 7″-Single "Sinner", die in Kürze auf dem französischen Label "Six Tones De Chair Records" erscheint.
---
A bar and a stage – those are the favorite places of Thore, Velvet and Eddie alias Sick Hyenas from Hamburg. This is reflected in their music. It reminds the listener on drunken nights where in the end everything seems possible: sex, drugs, break down.
"Radar Eyes" is overflowing with energy, in "Le Sac" the guitar is shrieking, "Oh Mother" sounds like a Western movie written by Quentin Tarentino. The songs on their first record "Sick Hyenas" (2014) mirror perfectly the live spirit of the three: impelling Garage Rock between Surf, Psych and Punk-attitude. In the thick of it they recite lewd poems by the authors Charles Bukowski and Allen Ginsberg.
The band name aims as well for an explosive mixture: "Hyenas are for us the absolute freaks in the animal world. Very mystical, dangerous and mad", explains the singer Velvet. He formed Sick Hyenas in 2011 together with his cousin Thore on the guitar and his school mate Eddie on the drums. Since then they are performing on the stages in St. Pauli and increasingly in the world. Their record release on tape and vinyl followed a two weeks tour in 2014 through France, Germany as well as Switzerland. All this they made happening without a major music label. Facebook, Soundcloud, Instagram and others helped them, although they wouldn't mind resigning from it. But those platforms are "the best and easiest possibility to present the band and to be discovered. We can also trace who is listening where in the world to our music", says Thore rejoycingly. By now they have fans in Australia, Brazil, France and the USA. That pushes them to keep on playing – and makes their favorite places bars and stages even more appealing.
At the Fever Creek Intermezzo 2015 they are going to present their record as well as new songs. For example the 7" single "Sinner" which will be released in February on the French label "Six Tones De Chair Records".
More about Sick Hyenas: facebook.com/SickHyenas
Listen to Sick Hyenas: