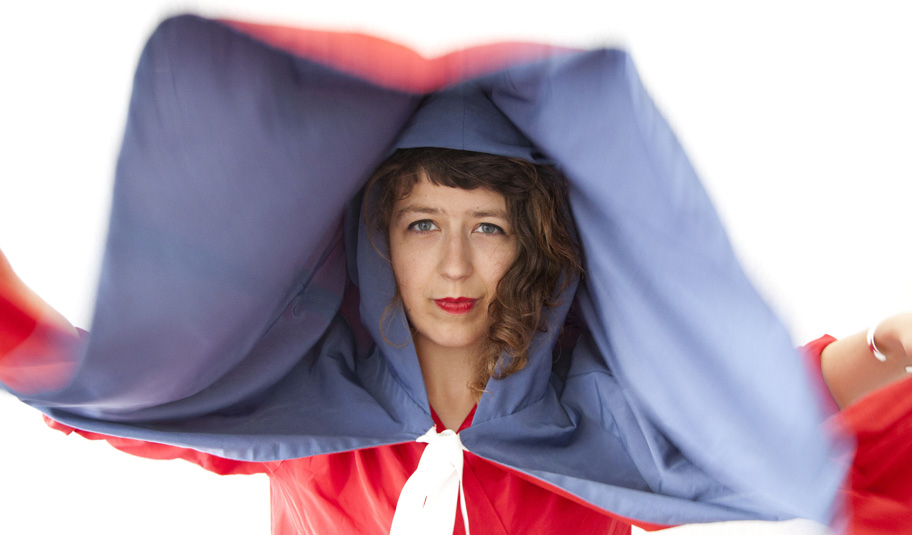 Unter den Berliner Singer/Songwriterinnen ist sie eine kleine feste Größe: Die gebürtige Londonerin und Wahlberlinerin Martha Rose spielte in den vergangenen Monaten mit lokalen und internationalen Bands wie Fear of Men, JFR Moon, Mallory und The Great Park. Sie begleitet die Projekte als Geigerin auf der Bühne und bei Aufnahmen. Solo stellt die 26-Jährige viele weitere Talente unter Beweis.
Martha Rose schreibt eigene Folksongs und beherrscht mehrere Instrumente. Schon als kleines Mädchen nahm sie Violinenunterricht. Vor sieben Jahren lernte sie Gitarre spielen, und vor Kurzem kam ein Casio Keyboard hinzu. Ihre Füße werden ebenfalls zu Instrumenten, wenn sie mit Steppschuhen tanzt – eine Leidenschaft aus Kindertagen. "Ich glaube, ich wollte immer etwas Zauberhaftes mit Musik verbinden", sagt Martha Rose. "Ich brauchte nur eine Weile, um zu realisieren, dass das auch möglich ist." Mit 16 kam die Chance: Sie trat mit Folk-und Countrybands in Brighton bei London auf. Seither tanzt sie als Musikerin durch die Welt. Über ein Studium der Deutschen Literatur fand sie im Frühjahr 2013 ihren Weg nach Berlin.
Trotz jahrelanger Erfahrungen hat sich Martha Rose eine kindliche Note bewahrt: Ihre Musik ist reduziert, verträumt, intuitiv und kein Show-off ihres Könnens. In den Liedern spiegeln sich Erinnerungen und Sehnsüchte wieder, inspiriert von dem Folk Peggy Seegers und dem Country von Bob Dylans "Desire". Für die Zukunft plant sie die Umsetzung eines ganzen Albums, nachdem sie bereits EPs veröffentlicht hat. Zudem arbeitet sie aktuell mit Nicolas Francis an neuen Songs. Sie lernte den Banjo-Spieler bei den Proben mit Mallory kennen. "Ihr könnt Musik mit viel Geige und Banjo erwarten", freut sich Martha Rose. Beim Fever Creek Festival wird sie solo mit ihren vielen Talenten auftreten.
---
Among the singer/songwriter scene in Berlin she is well established. Born in London, now living in Berlin, Martha Rose played during the last month with local and international bands like Fear of Men, JFR Moon, Mallory and The Great Park. She supported these projects as a violinist on stage and during recordings. As a solo artist the 26 years old shows many more talents.
Martha Rose writes her own folk songs and plays several instruments. As a little girl she started to have violin lessons. Seven years ago she learned how to play the guitar and quite recently she purchased a Casio keyboard. Her feet turn also into instruments from time to time when she dances with tap shoes – a passion from childhood days. "I think I always wanted to do something magical connected with music", says Martha Rose. "But it took me a long time to realize it was possible." When she was 16 she got her chance: She performed with folk and country bands in Brighton near London. Since then she dances as a musician through the world. Her studies in German Literature she found her way to Berlin in spring 2013.
Despite years of experience she kept a childlike note: Her music style is reduced, dreamy, intuitionally and no show-off of her skills. Her songs mirror memories and desires, inspired by the Folk of Peggy Seegers and the Country of Bob Dylans "Desire". For her future she plans the realization of a full length album, after she already released EPs. Furthermore she is working at the moment on new songs with Nicolas Francis. She got to know the banjo player at rehearsals with Mallory. "You can expect lots of fiddle and banjo", says Martha Rose joyfully. At the Fever Creek Festival she is going to perform as a solo artist with her many talents.
More about Martha Rose: https://www.facebook.com/martharosemusic