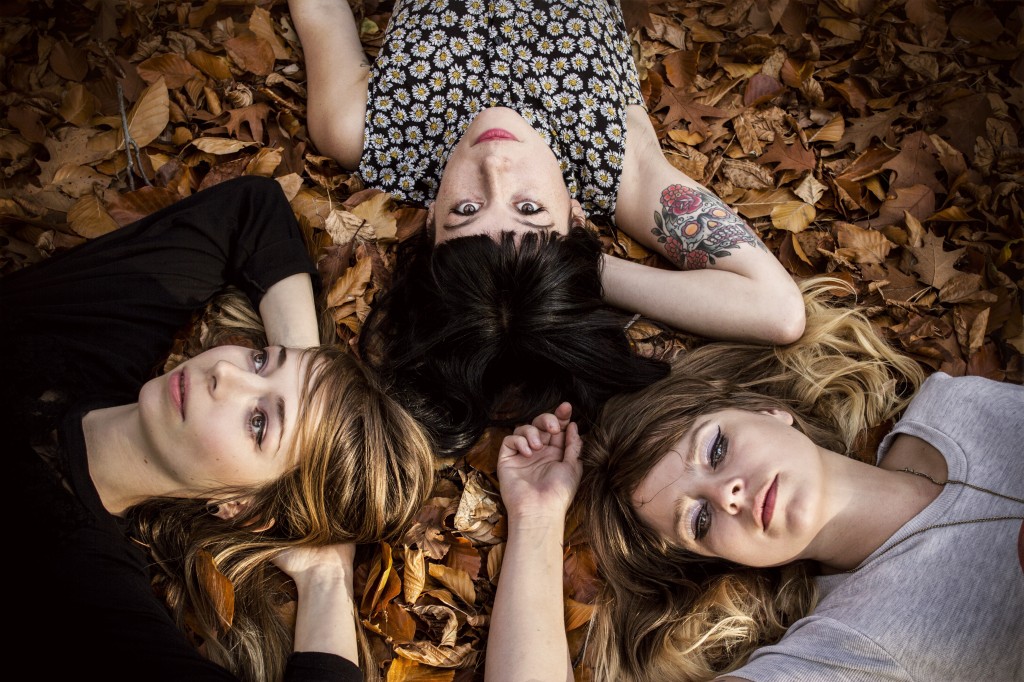 Die Musik von Canyon Spree handelt meist von Fantasiewelten, bestehend aus Geschichten und Bildern", sagt Canyon Spree-Songwriterin Stéphanie. Was sie genau inspiriert: "Filme, vor allem Horrorstreifen, Western und Roadmovies aus den 60ern und 70ern." Daraus entstehen Songs wie "Badlands" oder "Children Of The Night" mit dem typischen Bandsound zwischen punkig und psychedelisch.
Seit Sommer 2013 bringt Canyon Spree innere Bilder zum Klingen und Krachen – zur Berliner Band gehören Stéphanie (Gitarre, Gesang), Renée (Gitarre, Gesang) und Katharina (Schlagzeug). Die drei Frauen lernten sich über Ländergrenzen hinweg kennen, zusammengeführt haben sie die Liebe zur Garagemusik und das Internet. Über die Couchsurfing-Community suchte die Französin Stéphanie, die damals neu in der Stadt war, nach Mitstreitern für eine Band. Ihr fiel das Profil der Berlinerin Katharina auf, die zu jener Zeit in Schweden studierte. Sie begannen, einander zu schreiben und entdeckten Gemeinsamkeiten wie die Begeisterung für Black Sabbath, Ty Segall oder Hellshovel. Der Plan stand schnell fest: Sobald Katharinas Auslandsemester vorüber sei, würden sie in Berlin zusammen Musik machen. Gesagt, getan. Es musste nur noch ein drittes Bandmitglied gefunden werden. Sie lernten über Freunde die Neuseeländerin Renée kennen und die schweißtreibenden Proben im Kreuzberger Keller begannen.
In kurzer Zeit hat sich Canyon Spree zu einer der spannendsten Newcomer der lokalen Garage-Szene entwickelt – und das mit nur einer Handvoll veröffentlichter Demosongs. Vor Kurzem erst wurden die Drei als Vorband von Jeffrey Lewis in der Berghain Kantine und von The Anna Thompsons im Auster Club gebucht. Sie sind Teil des kreativen Umfeldes Berlins geworden, das besonders auf Renée und Stéphanie so anziehend wirkte, dass sie vor mehr als einem Jahr Neuseeland und Frankreich dafür verließen. Fernweh packt sie selten: "Momentan ist das der Ort, an dem ich sein will", sagt Renée. Ihre Bandkolleginnen sehen das genauso. Welch ein Glück für Berlin.
---
"Canyon Spree's music is mostly about a fantasy world, made of stories and images", says Canyon Spree songwriter Stéphanie. Her inspiration: "Movies, especially horror flicks, Western and Road-movies from the 60s and 70s." This results in songs like "Badlands" or "Children of the Night" with the typical band sound between Punk and Psychedelic.
Since summer 2013 Canyon Spree transforms their inner picture world into music – part of the Berlin based band are Stéphanie (guitar, singer), Renée (guitar, singer) and Katharina (drums). Country boarders didn't stop them from meeting each other, their love for Garage music and the Internet brought them together. The French Stéphanie, who was back then new in town, used the couch surfing community to find others to found a band with. She stumbled over the profile of Katharina from Berlin, who was studying in Sweden during that time. They started texting with each other and found similarities like the enthusiasm for Black Sabbath, Ty Segall or Hellshovel. A plan was directly formed: Right after Katharinas term abroad, they would start to make music together in Berlin. No sooner said than done! They just had to find a third band member. They met via friends the New Zealander Renée and the sweat-inducing rehearsals in a Kreuzberger cellar began.
In a really short time Canyon Spree became one of the most exciting newcomers of the local Garage scene – and this just with the help of a handful of published demo songs. Just recently the three were booked as openers of the gig of Jeffrey Lewis at the Berghain Kantine and The Anna Thompsons at the Auster Club. They became a part of the creative environment of Berlin that made Renée and Stephanie leave their home countries in the first place. Just seldom they get wanderlust: "For now, that's where I want to be", says Renée. Her band members agree. What a stroke of luck for Berlin.
More about Canyon Spree: https://www.facebook.com/canyonspree
Listen to Canyon Spree: http://canyonspree.bandcamp.com
Foto (c) Delikt Katze Essen